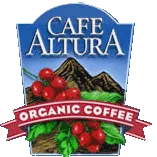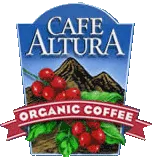 Already committed to growing organic and biodynamically grown food products, Cafe Altura began with a group of enthusiastic like-minded friends in the 1970's. A trip to Chiapas, Mexico heralded their entrance into the coffee business. There they met the Peters family who owned the Finca Irlanda farm whose practice of growing coffee via organic and Biodynamic techniques stirred up an interest with the Cafe Altura group. That is where the relationship between the Finca Irlanda and Cafe Altura began and it continues to this day.
From the simplest of beginnings to the extensive selection of certified organic coffee which Cafe Altura offers today including the finest beans from Colombia, Sumatra, Mexico, Guatemala, Costa Rica and Hawaii, Cafe Altura still believes in producing the best quality product possible. This is evident at their facility in Santa Paula, California where they continue to roast in small batches to ensure freshness and exceptional quality control. The friends' dream of so long ago continues to grow but their belief in quality and freshness remains unchanged and as important to the core business today as it ever was.
Today Cafe Altura offers a wide selection of certified organic coffee. No matter what your favorite flavor they have you covered. Some of the most popular blends are listed below:
The traditional chicory flavor of New Orleans is represented in this dark bean coffee. It's rich, complex flavor makes it the perfect choice for a morning blend that balances delicate flavor that won't overwhelm the palate. This is a dark roast coffee with a smooth blend and superior flavor.

Real Buyer Comment: "High quality brew"
Amazing price for such a quality product: 2 lbs. of dark, oily beans. However, do not expect a "bold" taste from this blend. It is a much more delicate coffee, with a taste that is complex but not at all overwhelming.

A full bodied, medium roast blend that is roasted to perfection. It has a hint of nutty flavor without any bitterness. This is one of the most popular coffees by Cafe Altura.

Real Buyer Comment: "Great Organic Coffee at a Bargain Price"
This is the best coffee I've ordered from Amazon, to date. It's a medium roast and has the nutty coffee without any of the bitter taste. The perfect morning blend.

A full bodied blend, this coffee boats a rich, smooth flavor with no hint of bitterness and low acidity. Great for an everyday blend and a favorite winter coffee for many.

Real Buyer Comment: "Great coffee & easy on my stomach"
We've tried many of the other Cafe Altura coffees, but this one is our favorite. It's a darker coffee with a very smooth flavor. It's also very easy on my stomach and doesn't seem to be as acidic as other dark coffees. I've added this one to my Subscribe & Save list to be delivered every month!
Cafe Altura's dedication to quality, certified organic coffee shows. They have a variety of blends and take great care in producing the best coffee for their customers. Visit the store to browse a wide range of Cafe Altura Organic Coffees.
Related articles