Eight O'Clock Ground Coffee, The Original
$9.99
Delicious blend of 100% Arabica coffee beans at a medium roast

Tastes great every time you brew because it has a century and a half of expertise into every bag

Original but definitely not boring

Today Eight O'clock is America's best-selling whole bean coffee

Kosher certified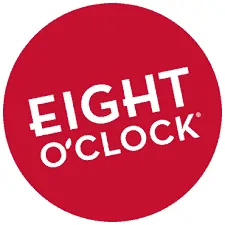 If you love great coffee, then rest assured, we love you right back.
Our rich history. The times may have changed, but our unwavering commitment to supplying every kitchen, loft, and breakfast nook with quality coffee has not. Our beans have journeyed from Maryland, where we roast them all, to tables across the nation since 1859. We love coffee, and coffee loves company. Share in our passion, and learn what makes Eight O'Clock Coffee, America's Gourmet Coffee.
Gourmet Coffee Details
Ground coffee
100% Arabica coffee beans
Don't know how to decide?
Read our coffee guide to figure out what blend of coffee is right for you.
Eight O'Clock Ground Coffee, The Original
Delicious blend of 100% Arabica coffee beans at a medium roast
Size: 24 oz.
Caffeine options: Regular
Cost per ounce: Regular: $0.42/oz.
Coffee Beans: 100% Arabica
Eight O'Clock Ground Coffee, The Original
$9.99
Delicious blend of 100% Arabica coffee beans at a medium roast

Tastes great every time you brew because it has a century and a half of expertise into every bag

Original but definitely not boring

Today Eight O'clock is America's best-selling whole bean coffee

Kosher certified