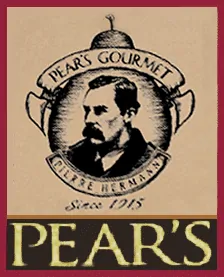 The Nuts in the Hut are very pleased to welcome an old-world, artisan Coffee to our selected Roasters here — Pear's Gourmet Coffee.
Master Roaster "Pierre Hermann" (Pear), founder of Pear's Coffee, first came to the States in 1915. A gifted craftsman, with his expert touch, Pear created the finest, most flavorful roasted nuts and coffee in the world. Today Pear's coffee is produced in a Omaha in a 50,000 sq. ft. precision facility, but still with old-world values — their roaster, built in the 1940s, continues to enhance the delicate roasting technique that made Pear's famous.
We like the Breakfast Blend which comes in four, 32 oz. (2 pound) bags — excellent for sharing the enjoyment of a rich, satisfying cup of coffee. Learn why it is said that Mr. Pear, combined his love of fine French gourmet food with his delicate technique of roasting coffee and nuts and created art.