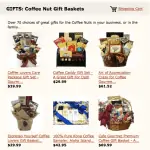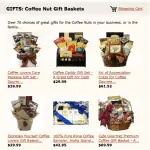 We're sure you know more than one Coffee Nut who will appreciate a Coffee Gift Basket when the timing is right. Perfect for corporate gifts, and for those coffee drinkers on your list, our new Coffee Nut Gift Baskets Shop offers over 70 choices of quality coffee and tea gifts.
You'll find special Espresso, Kona Coffee, and theme baskets including Christmas, Mother's Day, and a Chicago and New York Sampler.
Here are some Staff Nut picks for Coffee Gift Baskets…

Camano Island Coffee Roasters' Island Select Box – Coffee Gift Basket (Certified Organic Coffee, Old Fashioned Diner Mug, and Chocolate Covered Espresso Beans) – $47.94 . This is a great way to introduce your Coffee Friend to Camano Island Coffee… then refer them back to the Camano shop here at CoffeeNutHut.com.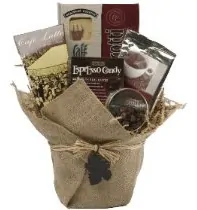 Espresso Yourself Coffee Lovers Gift Basket – Perfect for your coffee loving gift recipient who loves Espresso… and also the right fit for a budget ($29.99). Contains gourmet Cafe Cookies (each decorated with a coffee cup!), Almond Biscotti, Barista Blend Cafe Latte Mix, Premium Flavored Coffee, Bali's Best Latte Candy, Mama Says Biscotti and Cappuccino Candy Sticks.
Cafe Gourmet Premium Coffee Gift Basket ($69.99) – Great for business and corporate gifts, this large basket is filled with premium coffees, sweets and great java go-togethers – enough for all to share! Recipients will find biscotti, a selection of cookies, and of course, Espresso Beans in this premium basket manufactured by Art of Appreciation Gift Baskets.
Please Note: Stay tuned and bookmark the shop because our vendors change, and all vendors reserve the right to use different packaging, decorations, and substitute products beyond what is shown and described here.  Shipping, Service and Package Tracking is handled completely by trusted Amazon.com — just log into your Amazon account for all order information and to leave reviews and comments for our vendors.